Here are some links I've been accumulating that are worth a look:
The law requires undocumented immigrants to follow the same tax laws as other U.S. residents. They must report income and where required, pay taxes. That's true even if they are working "off-the-books," and their employer pays in cash.
White Nationalism: A Scourge That Won't Go Away:
Reacting to the inclusion of the "white nationalist" anti-immigration activist Peter Brimelow on a panel on "The Failure of Multiculturalism: How the Pursuit of Diversity Is Weakening the American Identity" at this year's Conservative Political Action Conference (CPAC), Ed Schultz observed on MSNBC's The Ed Show that, "We've come to expect CPAC to bring together the far righties. But even CPAC should draw the line somewhere."
Government-Created Black Markets:
Pair charged in immigrant smuggling role
Feds say $1 million bribery scheme involved Gulf Cartel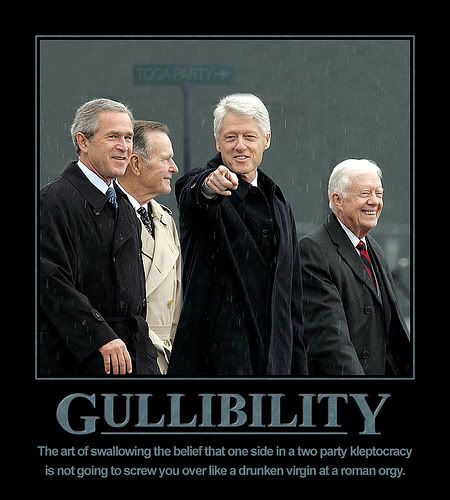 Government-Created Orphans:
Illegal Immigrant Fights for Custody of Young Son
North Carolina Deportation Case Highlights Child Welfare Maze
Government Bureaucracy Wrecks Individual Rights and Has Unintended Consequences:
Because U.S. Erred in '90, Bronx Resident Becomes a Man Without a Country
Honduras fire victim wrongly deported
In vitro babies denied U.S. citizenship
Married Couple Who Live On Different Sides of the U.S.-Mexico Border Further Proof of America's Stupid Immigration Laws
DHS Expands Controversial Secure Communities Program
U.S. Immigration Patterns Are The Result Of Unintended Consequences, Not Policy: Report
Deportation fear stops trafficking victims from reporting crimes
LGBT Immigration Issues:
Gay, married immigrant spared from deportation
Torture of Gay Immigration Prisoners Alleged
US Man Tries to Stop Deportation of Mexican Husband
Government Corruption:
ACLU: State police trooper detained U.S. citizen based on Mexican heritage, language
US Immigration Detention System is Flawed, Report Says
Human rights group cites violations on U.S.-Mexico border
Former U.S. Immigration and Customs Enforcement Employee Pleads Guilty to Taking Part in Fraud Against Government Scheme
Another ICE Employee Charged in Kickback Scheme
Judge: Lawsuit can proceed against agents who deported U.S. citizen
State Immigration Issues:
Mississippi Lawmakers Pass Anti-Illegal Immigration Law
Court upholds ban on Texas immigrant housing law
Georgia Immigration Law Targets Water Services, Marriage